The OSE is partners in the ECAB (Evaluating Care Across Borders) research project, funded by the European Commission under its 7th Framework Programme. The project, which started on the 1st of May, aims to examine aspects of safety, quality and continuity of care delivery patients need to be informed about when they examine whether to seek health care in another Member State.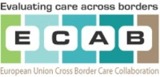 The ECAB project will also look into existing cross border collaborations in the field of health care. Coordinated by the LSE Health, London, this project brings together 13 partner institutions from all over Europe. 
 
Within this project, the OSE is leading a research on cross-border medical prescriptions and is conducting in-depth research on cross border collaboration in the Belgian hospital of Dinant. The latter study includes a stakeholder analysis and an analysis of the treatment pathways of French parturient giving birth in Dinant.
 
OSE team members taking part in this project: Lorena San Miguel, Régine Kiasuwa, Dalila Ghailani, Rita Baeten.